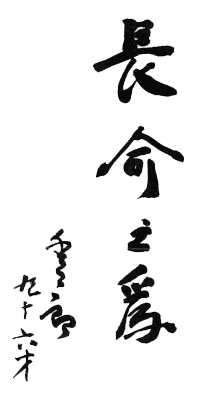 The third of four children, Aijiro Nagata was born on July 25, 1912 in the tea-growing town of Ujitawara to father Dennosuke Nakatani and mother Yuku. His father ran a tea and timber business.

As a child, he helped out with farm, tea production and household chores. After graduating from elementary school, he continued his education, but his father left for the war around that time, putting a strain on the family finances and forcing him to leave school at the age of 15 to work as an apprentice at a tea wholesaler.

Aijiro was full of business motivation, and when he turned 25, he took his hard-earned 500 yen and rented an office in Kyoto to achieve independence.

He had extraordinary talent for manufacturing tea, and his roasted tea was very highly regarded.

However, just as he began turning a profit, his office was hit with a flood, and all his tea leaves were ruined, putting him out of business.
At the time there was no insurance, so in order to pay his debts, he had to return to his former workplace.

Later, at the age of 29, he married into the family of his wife Harue Nagata and began working at a nearby tea wholesaler.

They had four children together, and despite some difficulties, he was able to maintain a livelihood. However, he was unable to shake off his desire to have his own tea business. He scraped together a down payment and purchased a house through a neighborhood real estate agent and with high hopes began manufacturing coarse green tea as he had always wanted to.

Unfortunately, however, he had been swindled by the real estate agent and was kicked out of the house.
He had borrowed the down payment, so he was forced to shut down his business when he could not pay it back.
He and his family lost their home, but a kind acquaintance let them rent a small empty lot nearby (the current location of the head office), and he built a small home on it to live in.

After that, Aijiro began working at an established tea wholesaler in Uji City processing tea. His skills were rated highly, and he received the Minister of Agriculture and Forestry Prize.

In 1970, he began suspecting that his own poor health was due to contamination of his tea by pesticides. He was also suspicious of fertilizers used for mass production and quality improvement that had become prevalent in that period of high growth as well as of foods containing additives. After much thought, he decided he wanted to make all natural tea and established Nagata Chaen to do just that.

At the time, however, he was unable to hire any employees, so he, his wife Harue and Fumiyo, the wife of Kokichi (the current representative), worked day and night to handle everything.

Shortly thereafter, the president of trading company Mitoku visited him from Tokyo and asked him about exporting his natural green tea to other countries.

Aijiro was extremely wary of trusting others, but he trusted this man's mutual interest in making tea and agreed to do business with him.

The roasting and flavor of Nagata Chaen tea created by its extraordinary technology was soon highly regarded in the countries where it was exported, and orders increased remarkably. Aijiro was unable to handle all the work himself, so he brought in his son Kokichi who had been working at a textile wholesaler, and they worked together to meet the demand.

Thanks to the natural food boom, the number of people seeking safe foods multiplied, and today Nagata Tea is sold in more than 30 countries, including Japan, the United States and Europe.

Aijiro overcame various difficulties to perfect all-natural tea making just like the old days and realized his dream of independence.

Written when he was 96 years old, his book For Life details how he achieved his desire of a long life and describes his wish to help everyone live long lives through tea. We commend him for his passionate resolve.

Aijiro passed away on December 31, 2009 at the age of 98